Our ability to travel has been stunted for a while; so it's definitely time to go somewhere! In the US, people are more than ready to hit the beaches. If you're looking to avoid the major tourist attractions and would prefer some soft sand, summer breeze, and relaxing, rhythmic waves, then get ready to take notes, fellow travelers.
According to a recent Tripadvisor survey of 2,330 travel lovers in half a dozen countries, 60 percent of said travelers are "very likely" to take a trip to the beach sometime this year. The following list of "best beaches" is actually based on website reviews, traveler ratings, and (to a much lesser degree) our personal picks. Yes, recent events are still impacting travel in several different ways, and beaches may not yet be offering visitors all the otherwise expected amenities, as this goes to press things are improving on a daily basis. Here then, are the top 10 US beaches, starting with number 10.
10 Best Beaches in The United States of America for the year 2021
10.  Kailua Beach Park, Kailua, Hawaii
As expected, the popular tropical paradise of Hawaii slots in five times on our top ten chart. Coming in at number 10, is the breathtakingly beautiful Kailua Beach Park on your rovin' writer's birthplace, the island of Oahu. The park spans 30 acres and includes a two-mile-long beach and a green, grassy picnic area, a boat ramp, volleyball court, and even a few food stands. This is a longtime favorite vacation spot for ex-President Barack Obama who often rented this huge home near here.  
9.  Madeira Beach, Madeira Beach, Florida
You will find this rather relaxed beach on the gleaming Gulf of Mexico just west of St. Petersburg. This two-and-a-half-mile-long beach is especially popular with sand strollers and sun-worshippers. It is also a hot spot for fishermen. Indeed, experts report that more grouper is actually caught right here than in any other place in the entire state. This place is famous for holding the yearly John's Pass Seafood Festival which is highlighted by live music and, of course, fresh seafood dishes.
8.  Wai'anapanapa State Park, Hana, Hawaii
See the volcano-born black sand here on this otherworldly, rather remote on the idyllic isle of Maui. Keep an eye on the tide pools that actually turn red several times throughout the year. Researchers discovered the crimson coloring is caused by the coming of certain small shrimp. A more interesting local legend, however, has it that it is the fresh blood of a princess that was murdered there. A tan and a torrid tale. What more could you want from an island vacation?\
7.  Ogunquit Beach, Ogunquit, Maine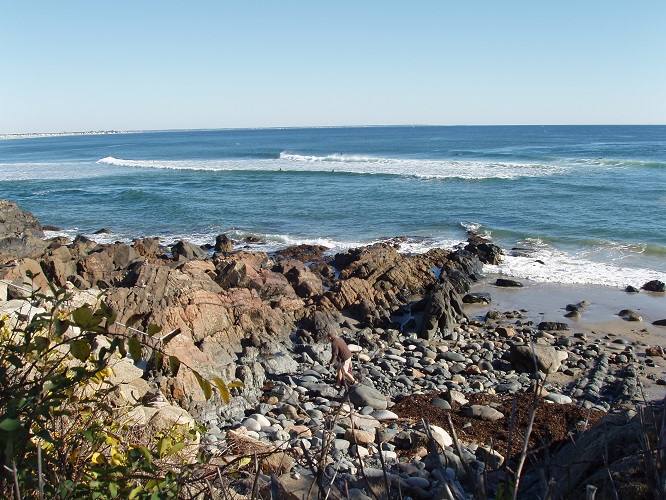 This beach is aptly named since "Ogunquit" is native Algonquin for "beautiful place by the sea." The beach stretches for three-and-a-half miles and comes complete with soft white sand and gentle lazy surf. If you're so inclined you can wade out literally hundreds of feet in the waist-high water at high tide. Leave your car keys in your room. You can take a leisurely stroll along pretty Marginal Way to a picturesque place called Perkins Cove.
6.  Napili Beach, Lahaina, Hawaii
There is nothing like doing nothing on Napili Beach in lovely Lahaina on the isle of Maui. Here you will find a nice little natural reef that is teeming with marine life. You can also climb aboard for a whale-watching cruise that leaves from popular Lahaina Harbor. If you are single but are seeking a romantic place to propose, this could very well be it.
5.  Cannon Beach, Cannon Beach, Oregon
One of the highlights of eye-catching Cannon Beach is rugged Haystack Rock. It's an impressive, 35-foot-high sea stack, and unsurprisingly a well-known Oregon landmark. You can get a good look at the tide pools and other sea creatures at low tide. If you get too much sun on this scenic beach then go on a nice day trip and check out scenic Seaside. It has fun candy shops, a fun carousel, and an educational aquarium too.  
4.  Wailea Beach, Wailea, Hawaii
You will find wonderful Wailea Beach on the isle of Maui, conveniently flanked by exceptional hotels and resorts, For example, there is the fantastic 40-acre Grand Wailea Resort. The beach itself offers visitors sunbathing, swimming, and a nice, scenic walkway that makes strolling hand-in-hand to the nearby boutiques and assorted eateries easy.  
3.  Moonstone Beach, Cambria, California
Your rovin' writer recommends Moonstone Beach in cozy Cambria. This beach's name isn't an advertising gimmick. This outstanding spot situated in striking San Simeon State Park was actually named after the pretty moonstones that often wash ashore here.  
If you care to walk off your dinner for two before retiring to your room, there is also a nice, mile-long boardwalk to stroll along hand in hand. Into nature? Go study the tide pools, or watch for whales, otters, and dolphins as well.
2.  Ka'anapali Beach, Lahaina, Hawaii
Our runner-up takes us back to the island of Maui again. For it is here that you will discover Ka'anapali Beach. It is not only a popular choice of frequent flyers but also has a significant history. Indeed, this very beach was once the number one choice of Hawaiian royalty looking to get away from it all.
This incredible beach features three full miles of white sand and sparkling water. If you ever decide to get out of your comfy lounge chair, you can go scuba diving, snorkeling, surfing, whale watching, and even zip-lining. You can even go to Puu Kekaa (Black Rock) and check out the daily cliff-diving ceremony which reenacts a famous feat by the island's own King Kahekili
…And the winner is…
1.  St. Pete Beach, St. Pete Beach, Florida
The winning beach is this beautiful barrier-island beach found south of Madeira Beach. This hot spot comes complete with lapping warm waves and silky white sand perfect for getaways, proposals, and honeymoons. The historic, distinguished Don Cesar Hotel draws brides and grooms like flies.