Cruising with Norwegian: There's an App for That
By M and M Travel and Tours on 7th January 2019 in Travel
Cruising with Norwegian: There's an App for That
Norwegian Cruise Line introduces the all-new Cruise Norwegian app

Miami, FL, US – Dec 04, 2017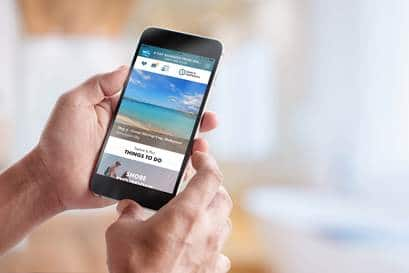 Norwegian Cruise Line announced today the introduction of the next generation of its booked guest mobile application, the Cruise Norwegian app. Designed to be the ideal travel companion from time of booking to day of disembarkation, the new Cruise Norwegian app features a multitude of functions that help provide a stress-free vacation experience, helping guests make the most of their time on and off the ship as well as stay connected with their friends and family both on board and back home. 
"Whether they're 60 days from their sail date or in the middle of their cruise, the Cruise Norwegian app brings seamless anytime-access to a myriad of onboard offerings, services and activities right into the palms of our guests' hands," said Andy Stuart, president and chief executive officer for Norwegian Cruise Line. "Once on board, the Cruise Norwegian app will allow guests to continue customizing their ideal cruise experience and view or manage their existing account information, allowing them to maximize their time and spend it on the things they enjoy the most."
With the Cruise Norwegian app, guests' dream cruise vacation is right at their fingertips with the capability to preview and book shore excursions, make dining and entertainment reservations, purchase onboard packages such as dining and beverage packages or special occasion packages before they cruise. Helping provide a stress-free embarkation day, the Cruise Norwegian app provides directions to the port and with mobile online check-in functionality guests can save time at the pier and have a paperless boarding process with mobile e-docs.  
Once on board, guests can use the Cruise Norwegian app complimentary by connecting to the ship's wifi to stay up-to-date on what's happening on board. The app allows guests to make reservations for their favorite Broadway-style shows, snag a seat for a mouthwatering dinner at one of Norwegian's many Freestyle dining restaurants and book their next in-port adventure on a shore excursion. Friends and family can stay connected on board using the Cruise Norwegian app, which features unlimited onboard calls and messages for a one-time fee of $9.95. Groups can organize meet ups and share their favorite photos with everyone in their party with group messaging through the app. Those wishing to check-in with loved ones back home can make calls through the Cruise Norwegian app for a nominal fee of $0.79 per minute for outbound calls to nearly every country in the world. 
Before disembarking the ship, guests using the app can track and review their onboard purchases, as well as view helpful disembarkation information including immigration and Easy Walk-off details. Those dreaming of their next cruise vacation can view information about Norwegian's Cruise Next program and review their Latitudes Rewards points and learn about onboard tier benefits. 
The free Cruise Norwegian app is currently available for use on cruises aboard Norwegian Sky. The new app will be available on board Norwegian's newest ship, Norwegian Bliss, when she launches in summer 2018, and will be available fleet wide by yearend 2018. 
# # #
About Norwegian Cruise Line 
Norwegian Cruise Line is the innovator in cruise travel with a 50-year history of breaking the boundaries of traditional cruising.  Most notably, Norwegian revolutionized the cruise industry by offering guests the freedom and flexibility to design their ideal cruise vacation on their schedule with no set dining times, a variety of entertainment options and no formal dress codes. Today, Norwegian invites guests to enjoy a relaxed, resort-style cruise vacation on some of the newest and most contemporary ships at sea with a wide variety of accommodations options, including The Haven by Norwegian®, a luxury enclave with suites, private pool and dining, concierge service and personal butlers. Norwegian Cruise Line sails around the globe, offering guests the freedom and flexibility to explore the world on their own time and experience up to 27 dining options, award-winning entertainment, superior guest service and more across all of the brand's 15 ships.
Recently, the line was named "Europe's Leading Cruise Line" for the tenth consecutive year, as well as "Caribbean's Leading Cruise Line" for the fifth time and "North America's Leading Cruise Line" for the second straight year by the World Travel Awards. Norwegian's next new build, the highly anticipated Norwegian Bliss, will be delivered in April 2018 featuring many firsts-at-sea for the global market including the largest race track at sea, award-winning Broadway entertainment, two observation lounges for guests to enjoy stunning ocean and glacier views and more.  Norwegian will introduce an additional new "Breakaway Plus" Class cruise ship in 2019 and has four additional ships on order for delivery beginning in 2022, with an option to introduce two more ships in 2026 and 2027.